Happy Labor day, friends! I thought I'd share a post about my weekend in Williamsburg, since it's an amazing local spot, with tons of things to do. We stayed during the Taste Tradition weekend, which was a deliciously packed foodie weekend event! Enjoy!- Liz
A month or so ago, I got an e-mail inviting me to the "Taste Tradition" Weekend at Colonial Williamsburg, which is basically a big foodie event, over Labor Day weekend. I naturally jumped at the chance to spend a couple of days learning about beer, wine, & cheese. Who wouldn't? So Saturday morning, Alex and I headed to Williamsburg for the event. (We did receive complimentary tickets to all of the events, but as always, all opinions are my own!)
Our first event was called From the Grain to the Glass, and was led by the founder and CEO of Heavy Seas Beer. We learned about malt, toasted barley, & hops, and even got to taste different grains, in their raw form. We learned about different alcohol contents, and why Pilsner is called Pilsner. (Answer: It got its name from the city of Pilsen, Bohemia in what is now the Czech Republic.) As someone who admittedly doesn't know much about beer, I thought it was fascinating.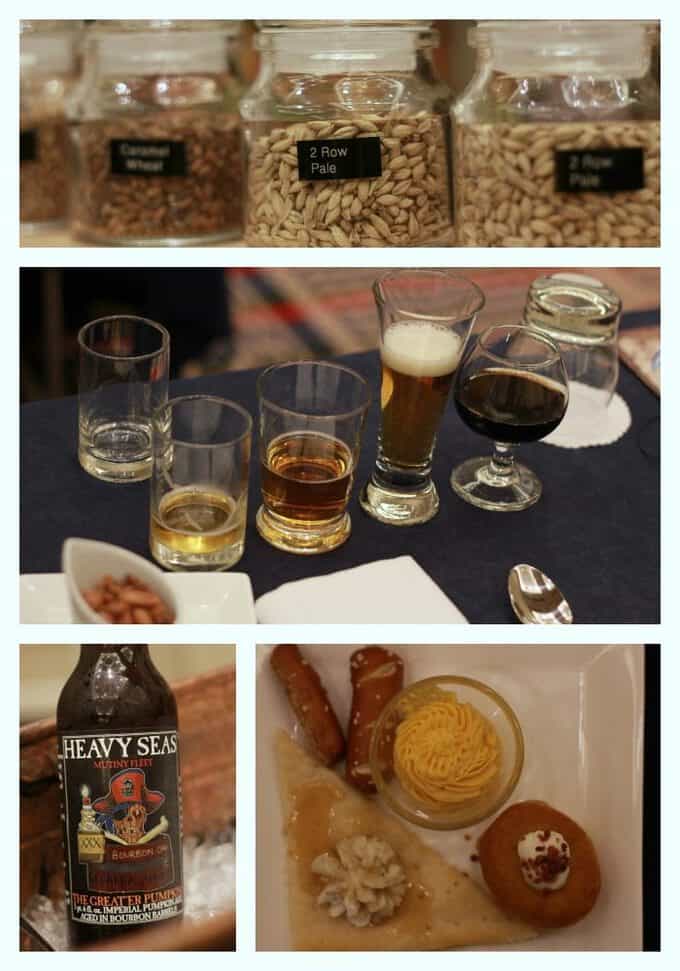 I tried all of the beers, and even though I'm not usually much of a beer drinker, I had so much fun learning about each one, and tasting the differences along the way. My favorite was the Great'ER Pumpkin Ale, which was sweet and paired well with the aforementioned donut. Is it fall yet?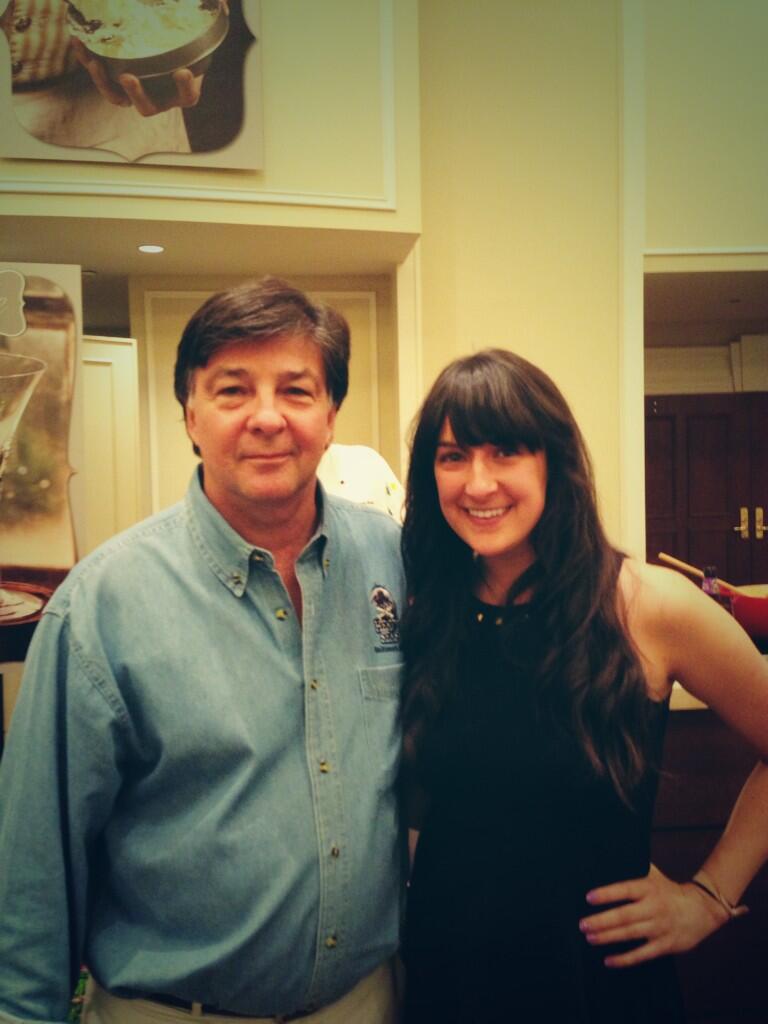 I was excited to get my picture with the owner of Heavy Seas, and I was also quite thrilled that most of the snacks were vegetarian! (I did have to eat the donut, sans bacon fat butter cream, my loss?) Anthony Frank, the executive chef at the Williamsburg Lodge created some delicious snacks during the presentation, using mostly fresh & local ingredients. I was in love with the jalapeno cornbread, while Alex enjoyed the pork chili, since it was made with all local and sustainable ingredients.
The next seminar we attended was "Want some Wine with that Cheese?" which was a cheese and wine paring class. Wine is much more my speed, and it was so interesting hearing about the wines made from New Kent, a Virginia winery that isn't too far from Richmond.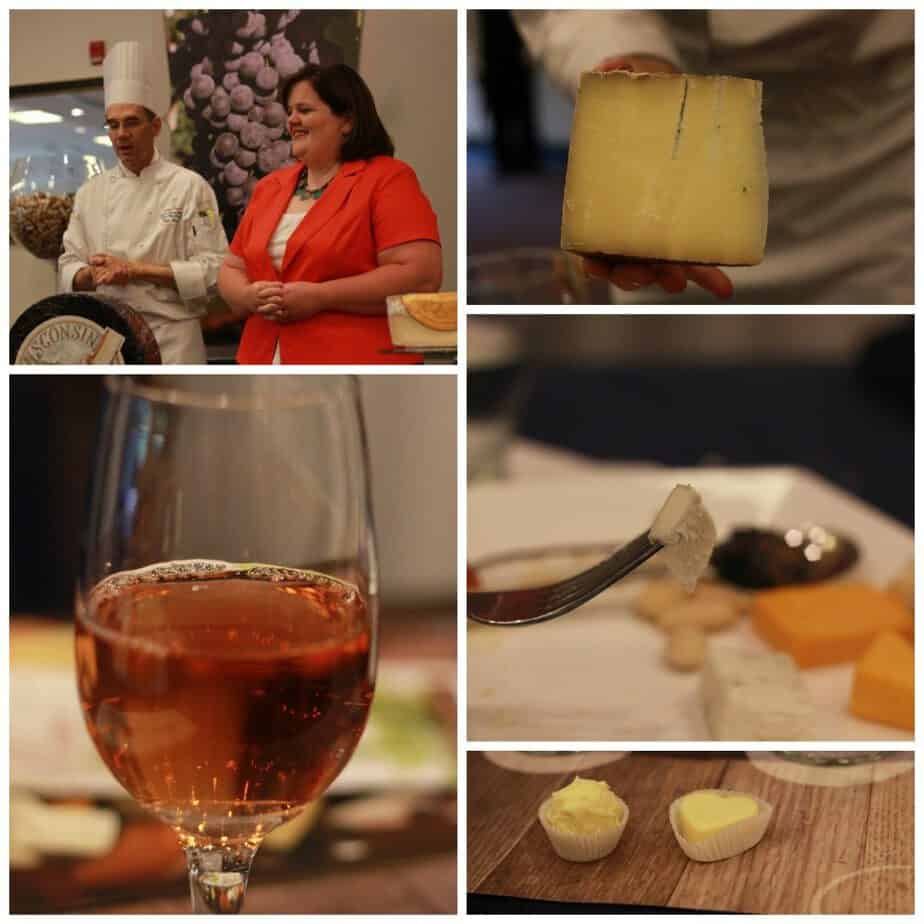 We tried the Chardonnay Reserve, Meritage, and White Norton. The White Norton turned out to be my favorite, but prior to the wine tasting, I had no idea what a Norton grape was. It was actually first cultivated in Richmond, so that was kind of cool. The wine was sweet, light, and refreshing, and after we sampled all three types, we switched to cheese tasting.
I was so impressed with the cheesemonger that came to speak from Carr Valley Cheese. She came all the way from Wisconsin, which is the only state in the U.S. that requires a licensed cheesemaker in order for a company to produce cheese. No wonder it's the best cheese 😉 We had a couple blue cheeses, a white cheddar, and two regular cheddars. The last one was a 10 year aged cheddar that was absolutely amazing. We finished off the tasting with some homemade white chocolate truffles, made by pastry chef Rodney Diehl. You can imagine I was feeling pretty good at this point.
After that, we got ready for dinner, and headed to the Williamsburg Inn for a fabulous 6 course dinner. I was thrilled that they were so accommodating, considering much of the menu contained meat. Each course, I was served a delicious vegetarian dish. The lighting was quite dim, as I expected, but I squeezed out a few shots of each course.
From the top: The menu, a sparkling rosé, a vegetarian version of the lobster bisque, a delicious salad with artichokes and palm hearts, a pear Riesling sorbet, a sweet pea risotto pastry with carrots and asparagus, and to finish it all off, a sampling of three delicious desserts. Each course was paired with a different wine from Barboursville Vineyards, and before each dish was brought out, the chef and the wine maker introduced the dish. The theme of the dinner was a "taste of the decades" so many of the recipes were from dozens of years ago. Clearly, they're still favorites today!
Overall, we had an amazing weekend. It was so much fun hearing people talk about something they are so passionate about. The amount of knowledge that was shared about wine, cheese, beer, food and culture was absolutely incredible. It was fun being swept away by the enthusiasm of the presenters! Thank you so much to Colonial Williamsburg for inviting me to participate in the festivities! I was so impressed with each event, and I hope to come back and visit again soon!
Would YOU rather go wine tasting, beer tasting, or cheese tasting?